COLD STORAGE ROOMS.
Maintaining the cold chain.
Transportes INDO opened a new logistics building in 2002, with 2,500 m2 of installations containing 4 cold storage rooms with a total capacity for 300 pallets, as part of the Refrigerated Logistics Platform, enabling us to work maintaining the cold chain during the whole storage and delivery process. All the rooms are prepared for use refrigerated (0º - 4ºC) and well as frozen (-18º to -22ºC).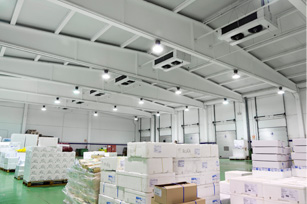 This sate of the art cold storage enables Transportes INDO to offer their Clients a quality service as an added value to their transport using the fleet of vehicles.